Denbies Fort was a late-Victorian construction built as part of a second line of defence along the North Downs in case the first line on the South Downs was overthrown.  This line of light fortifications was part of The London Defence Scheme.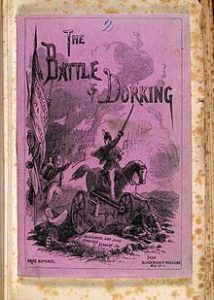 The Scheme was provoked by the easy victory of Prussia in the Franco-Prussian War and also by the threat of an invasion by the French.  "The Battle of Dorking" may also have had an effect:  this work of fiction was by George Tomkyns Chesney, a Captain in the Royal Engineers concerned over the ramshackle state of Britain's armed forces.  Written in 1871 just after the Prussian victory, the book describes an invasion of Britain by a German-speaking country referred to in oblique terms as "The Other Power" or "The Enemy".
The London Defence Scheme along the 70-mile (113-kilometre) chalk escarpment of the North Downs was a line of earthworks which could be quickly excavated in a time of emergency.  The entrenchments were supported by thirteen permanent small forts at roughly five-mile intervals called London Mobilisation Centres.  The thirteen sites chosen for these structures were at Pewley Hill and Henley Grove near Guildford at the western end, at Denbies, Box Hill, Betchworth, Reigate, East Merstham, Fosterdown, Woldingham, Betsome's Hill, Halstead, Farningham and (to the north-east of London) North Weald. 
The structures erected between 1889 and 1903 were distinctly varied in size and shape, never very elaborate, but equipped with stores and ammunition necessary for volunteer troops tasked with digging and manning the positions, usually aimed at resisting assaults from the south.  All had brick-built caretaker's cottages and stores, many of which still exist in some form – stores, youth centres (as Henley Fort above) or homes, although some are derelict.  Most of the actual defensive structures were fortified and some would have been able to take an active part in resisting an assault. 
Denbies Fort had embrasures for heavy guns, never mounted because improved weapons rendered them obsolete.  Box Hill Fort, its eastern neighbour, is still in existence, owned by the National Trust and inhabited by bats, but Denbies Fort was abandoned in 1905.  Probably at that stage the caretaker's cottage was divided into two to make homes for the Estate workers (called, variously, Fort Cottages or The Forts).  The teacher at St Barnabas School in 1907 listed "Fort Cottage" among the cottages where the children lived. 
In the 1911 census, No 1 The Forts was inhabited by George Bradley, a gardener aged 35 (brother of Ernest who later died on the Somme).  George had a wife Mary Elizabeth, a 5-month-old daughter Edith Jane, and a lodger Walter Hitchcock aged 18, a gamekeeper, born Hook, Surbiton.  Thomas Knight, Estate labourer aged 29 born Wotton, lived next door at No 2 with wife Martha, four children under 8 (Daisy Mary, John Charlie, George Michael and Arthur Walter), and Sarah Chambers, his widowed mother-in-law.


The 1915 "List of Persons Entitled to Vote" shows Jesse Worsfold at Fort Cottage.  He was a carter, father of Walter William Worsfold who married the sister of the WW1 casualty Frederick Buckland.  Twenty years later, the elderly Jesse is seen in the 1934 photograph of men with over 20 years' service at Denbies (see right)

After serving in WW1, the military-minded gamekeeper Walter Hitchcock is back at The Forts by 1919, and lived there with his wife Rachel for at least the next quarter of a century – still registered there in the Electoral Roll of 1945.  By 1939 his married sister Florence Sim is also sharing the couple's cottage.  Later, after Walter retired from his position as Estate bailiff, he and Rachel moved down the hill to Westhumble, first at Keeper's Cottage and by the early 1970s at Old Dene Cottages.  He is seen (left)  in the 1934 photograph of men with over 20 years' service at Denbies .

In 1935 the Hitchcocks' neighbours at the attached Fort Cottage were Lewis Lawrence (once cowman at Dairy Farm) and his daughter Lydia Kate.  By 1939 Mary (Maria) Bradley and her sister Lily are living there, although in 1945 Lydia Lawrence is back at the Forts.

From 1963 the Davis family lived in nearby Ashcombe Cottage for many years.  Beryl Davis remembers that Fort Cottages were inhabited until probably 1968-9.  They were more or less underground, with damp and electricity supply problems.  At that time a Mrs Brooker lived in one cottage and the Hodge family in the other (Mr Hodge worked for the railway and walked down to work past Ashcombe Cottage very early each morning).  Beryl has  a strong memory of how the building looked and has prepared this interesting sketch. 
The building was later used as a grain store before demolition in 1971.  A cavernous front section was left for a time, probably the ammunition store:  its reinforced ceiling below ground level was at least 6 feet thick.  The site was a great playground for local children, and a wonderful source of blackberries.  It then became a free tip, lorries constantly dumping refuse until the hole was filled.  In 1976 it was offered for sale with planning permission for a bungalow which could not be seen when looking up from Dorking.  This is the present Spanish-style house called "The Forts".  (The plural name has persisted because in the past there were two Fort Cottages, not because there were two Forts !)
Copyright©2016
SOURCES
http://www.victorianforts.co.uk, with special reference to the section on The London Mobilisation Centres
Surrey's Industrial Past, http://www.sihg.org.uk/books/SurreyIndPast10.pdf
Censuses: 1901, 1911, The National Archives (TNA).
St Barnabas C of E School  records, Surrey History Centre (SHC)
1915 "Persons Entitled to Vote" and Surrey Electoral Registers, various years (SHC)
Memories of St Barnabas parishioners, past and present:  Beryl Davis, Dick Gover, Robin Luff, Lynda Mackie-Gandy