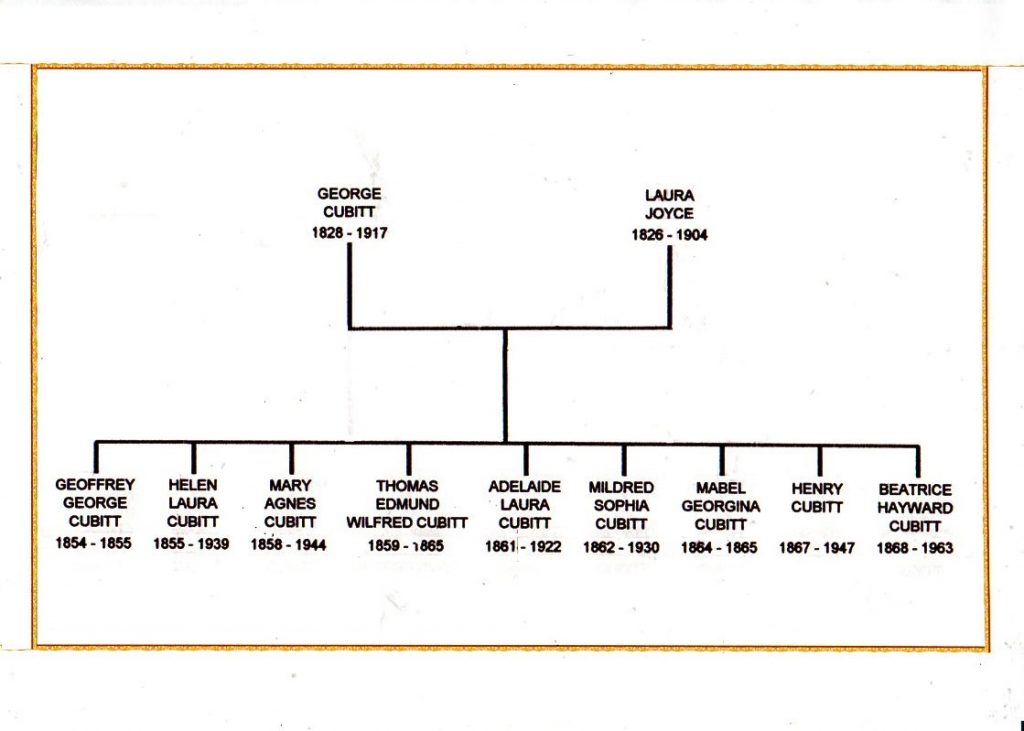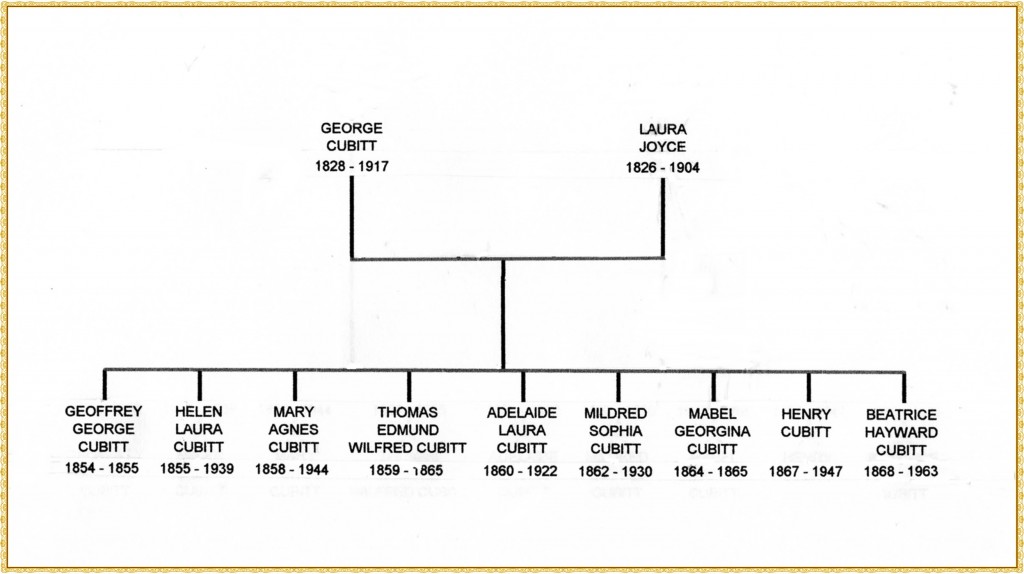 GEORGE'S WIFE
Laura Joyce was born on 13th August 1826 at Hitcham, Buckinghamshire and baptised on the 18th.  She was the youngest daughter of The Rev. James and Sarah Joyce.  James was Vicar of Dorking from 1837 until his sudden death in 1850.  Laura had several siblings:  one brother, The Rev. William Henry Joyce, was curate to his father, and later Vicar of Dorking.  Her oldest brother James Wayland Joyce was Rector of Burford in Oxfordshire.  One of her sisters Sarah usually spent part of each summer in Fox Cottage on Ranmore Common.
According to her grandson Stephen Tallents, Laura must have been extremely pretty in her youth.   On 14th June 1853, despite the original opposition of her bridegroom's father Thomas Cubitt on grounds of her lack of wealth, she and George Cubitt were married at St Martin's Dorking.  Laura's brother The Rev. William Henry Joyce performed the ceremony.  Laura and George had nine children, six of whom survived childhood.

Laura had a sweet and gentle disposition, with never a harsh word to anyone.  According to her grandson Stephen Tallents, her daughters admired her devotedly. She was extremely philanthropic:  she arranged for small delicacies to be sent to sick tenants on the Estate;  for the healthy she arranged every Christmas a fine bran tub of gifts, as well as a "treat" with Christmas tree and presents for the children from St Barnabas School.  During termtime she made frequent visits to the school, often with her daughters, and provided material twice a year for the older girls to make up into winter and summer clothes for all the schoolchildren (dresses and capes for the girls, coats and waistcoats for the boys). 
Laura herself was a great needlewoman, always busy with her embroidery, and also devoted to whist.  She was very nervous:  her grandchildren's smallest adventures had to be concealed from her; Stephen Tallents remembered her daughters "bunched in a whispering conspiracy to keep from her the news that his Uncle Henry [her only surviving son], on the very eve of his wedding, had been thrown out of his phaeton on the drive". 

In 1903 Laura and George celebrated their Golden Wedding  and the parishioners of St Barnabas, the Estate tenants and Denbies House servants, presented them with an illuminated scroll (right).  Despite the hope expressed on the scroll for the couple's future years together, Laura died the next year in London on 7th July and was buried at St Barnabas on 12th July 1904.  
The following year in her memory her children gave the Church a fine marble high altar and pavement, in front of the reredos of cream alabaster, which stretches the full width of the chancel. The alcoves on the sides of the reredos are engraved with the Lord's Prayer and the Ten Commandments.  The inscription around the pavement reads:
TO THE GLORY OF GOD

IN MEMORY OF LAURA, LADY ASHCOMBE
THIS ALTAR AND PAVEMENT WERE PLACED HERE BY HER SURVIVING CHILDREN  JULY 1905
 GEORGE' S CHILDREN
George and Laura Cubitt's children were Geoffry George (1854),  Helen Laura (1855), Mary Agnes (1858), Thomas Edmund Wilfred (1859), Adelaide Laura (1860/1), Mildred Sophia (1862/3), Mabel Georgina (1864), Henry, 2nd Lord Ashcombe (1867), Beatrice Hayward (1868).  Their uncle The Rev. William Henry Joyce (Laura's brother) baptised most of them, the older ones in Dorking at St Martin's where he was Vicar, the last three (possibly four) daughters at St Barnabas which by then had been built by their father. (For some reason Henry, who was the heir because of the deaths of his elder brothers, was baptised in London at All Saints Ennismore Gardens.)

1. Geoffry George Cubitt
The Cubitts' eldest son was born 31st May 1854 at Dorking and baptised at St Martin's on 13th July. The choice of his second name is obvious, but why he was given his first name is not at all clear, especially in an era when parents usually named their children after family members. However, George and Laura seemed to have been less traditional than most in naming their children. The spelling of "Geoffrey" varies, but the birth and baptism records have it without the second "e", as on the memorial plaque above.

Geoffry George had just reached his first birthday when he died on 6th June 1855.  He was buried at St Giles, Bodiam, so presumably his death was at the home of his aunt and uncle Mary  (nee Cubitt) and Rev. Charles Parker, the Vicar of Bodiam.  It has not been possible to find Geoffry George's death in the official records, so the cause is not known. 
 2. Helen Laura Cubitt

"Aunt Nell", George and Laura's eldest daughter, was baptised at St Martin's Dorking on 19th December 1855.  Like her older brother, it is not very obvious where her first name comes from.  In his autobiography "Man and Boy" her nephew Stephen Tallents remembers that at Denbies Aunt Nell had "a pony carriage all of her own in which, escorted by a groom, she drove a pony of exceptional tameness demurely about the Common.  She also had an organ, specially built into a room of the great house, on which, to the blowing of the garden boy, occasionally relieved by myself, she practised on certain evenings between tea and dinner."
By 1881 Helen Laura aged 25 is living at Lyncourt, Torquay, with her sister Adelaide (see No. 5 below)  and several servants.  This was because, as Stephen writes, her "health caused some anxiety and she was provided with a villa of her own on a hill above Torquay.  And there she lived for the rest of her long life…. having discovered a doctor who …. was to enjoy her profound confidence."   
Stephen continues,  "In her old age she took great pride in her nephew's [Henry Archibald Cubitt] connection with the Coldstream Guards, and would take her daily exercise, when the weather was too bad for her to get out, by marching up and down her drawing room to a gramophone rendering of a march played by their regimental band."  After her uncle William Cubitt's death, Nell also lived part of the time at his old home Fallapit near East Allington, Devon.  It was no doubt her influence that placed the names of Henry Archibald and his brothers on the War Memorial in nearby East Allington Church.

During WW1 Lyncourt was a Red Cross military hospital, and in 1920 Helen Laura Cubitt was honoured with a CBE for her work as "Commandant, Donor and Administrator for Lyncourt Hospital for Officers, Torquay". She died on 16th August 1939.  In WW2 the house was used for London evacuees, later it became a children's home, and is now apartments.
3. Mary Agnes Cubitt

George and Laura Cubitt's second daughter was born in Dorking and baptised on 10th January 1858 at St Martin's.  In 1884 she married The Rev. Edward Arthur Chichester.  The ceremony was performed by the Archbishop of Canterbury Edward White Benson, an old College friend of the bride's father who also conducted the marriage services of three of George's other daughters.

The eldest son of the Rector of nearby Wotton, Edward Chichester was nominated in 1885 as Vicar of Dorking by his father-in-law George.  He served in Dorking for nearly forty years; in 1909 he also became Honorary Canon of Winchester Cathedral.  Mary Agnes and Edward Chichester had four children, two boys and two girls. In September 1889  St Barnabas School logbook says that "Mrs Chichester visited with her little daughter and heard the Infants sing". 
The Chichesters' younger son, Captain William George Cubitt Chichester,  was killed in action on the Somme on the very same day (15th September 1916) as his first cousin Henry Archibald Cubitt,  Both young men were aged 24.  Captain Chichester of the 1st Battalion London Regiment (Royal Fusiliers)  was killed as he dragged men from a wiring party in No Man's Land to safety.  The quartermaster remarked, "It was a jolly fine thing to do, we all think the world of him."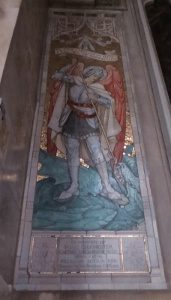 Captain Chichester is buried at Caterpillar Valley Longueval and his brother officers commemorated him in wall mosaics high up in the Lady Chapel at St Martin's Dorking as St George slaying a dragon (left).   On a nearby pillar the officers also placed a tablet in his memory with a description of how he died and an appropriate verse (right).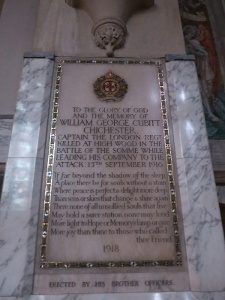 Eighteen months later, in March 1918,  Canon and Mrs Chichester heard that their surviving son, Major Arthur Chichester, had been wounded in France.   At the same time the news reached Denbies that his cousin  William Hugh Cubitt  (Henry, Lord Ashcombe's third son) had died of wounds.   Fortunately, unlike Hugh, Major Arthur Chichester recovered from his injuries and survived the war.
Canon Chichester retired through ill health in 1921, and lived in a house on the Denbies Estate (Ashleigh, Westhumble) until his death in 1925.  The history of St Martin's states, "In all the long history of St Martin's Church there is no record of a parish priest serving the church so devotedly for so many years, and as beloved by his parishioners and the townsfolk as Canon Edward Chichester." 
The Canon was buried in the churchyard at St Barnabas among  the other Cubitt graves.  His widow Mary Agnes died on 6th February 1944, and was buried with him. Their surviving children erected a memorial tablet to them in the Lady Chapel of St Martin's Dorking (right), similar to and balancing the one honouring the Chichesters' son Captain William George Chichester who died on the Somme.
4. Thomas Edmund Wilfred Cubitt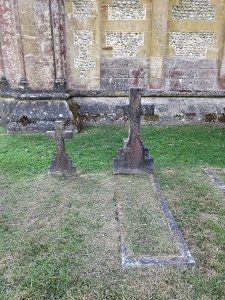 George and Laura's second son was born at Denbies on 5th August 1859.  Thomas Edmund Wilfred Cubitt was baptised on 12th September 1859 at St Martin's.  His first name is that of his famous grandfather, but it is not obvious where his other two names came from.
Thomas lived longer than his older brother Geoffry George, but still was only 5 when he died of scarletina at 25 Eccleston Square, London on 17th May 1865.  He was buried on 20th May at St Barnabas Ranmore.  His is the taller grave in the photograph (left);  the other is that of his little sister Mabel Georgina who died six months later.

5. Adelaide Laura Cubitt

The birth date of the Cubitts' third daughter does not seem to be registered anywhere, but her gravestone in St Barnabas Ranmore's churchyard gives it as 21st February 1861;  censuses indicate the place was  London, so possibly the baptism was also there. She was obviously quite an original:  whereas her sisters visited St Barnabas School to teach the children or to hear them read, the logbook says: "Miss Adelaide gave the children a treat by engaging a conjuror to come and amuse them by performing some tricks".  It is not hard to imagine which visit the children preferred!
According to her nephew Stephen Tallents, Adelaide declined some apparently more eligible suitors until, on 20th October 1891 at the (for the time) advanced age of 30, she married the faintly Bohemian Richard Anthony Fuller-Maitland, a member of Lloyds.  As with the marriages of three of her other sisters, Adelaide's wedding ceremony at St Barnabas was performed by the Archbishop of  Canterbury, Edward Benson.   Stephen Tallents and his brother Philip, aged seven and six respectively, in white sailor suits with blue silk collars acted as page boys.  They carried white sailor caps with the word "Adelaide" in gold on blue ribbons.  The bride gave each little lad a silver chain with a pencil case and whistle (seemingly in line with her ability to decide the sort of present  children would like).  Many years later in the London Blitz of 1940 Stephen still carried the whistle on his key ring as a guide to rescuers in hour of need!
Richard Fuller-Maitland was born in 1857 in the quiet Berkshire village of Wargrave-on-Thames.   Stephen Tallents wrote of him, "He was a kind-hearted and sociable being, who had been known… among his set in London as 'Dancing Dick'.  He had plenty of artistic sense and could play by ear on the piano any tune that he had once heard. He had imagination and gave it full rein.  He used to play a melody which, he assured us, he had reproduced from the repertoire of a Basuto tribe. He took no active part in any sport, but caused a sensation by appearing at breakfast one morning among a shooting party at Denbies in a bright crimson waistcoat."

Dick obviously admired his mother-in-law Laura.  When her children gave the altar and reredos at St Barnabas in her memory, he donated a pair of candlesticks with this inscription in Latin:
To the great glory of God and in dutiful memory of Laura Lady Ashcombe, honoured and most beloved, her son-in-law Richard Anthony Maitland mindful of her kindness, gave this gift ( D D) July 1905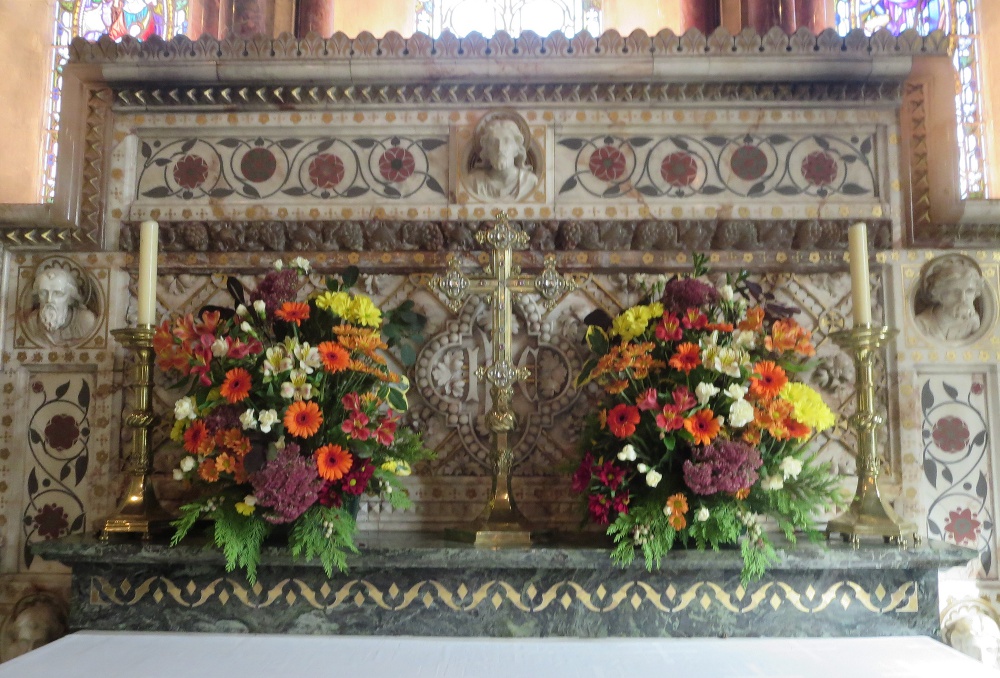 The Fuller-Maitlands had no children.  Richard died in 1919, Adelaide on 3rd November 1922, her residences on her probate being 23 Buckingham Palace Road and Fox Cottage, Ranmore. The couple are buried in St Barnabas churchyard at Ranmore, close to the graves of Mary Agnes and The Rev. Edward Chichester).
 6. Mildred Sophia Cubitt
Mildred was born in Dorking probably towards the end of 1862 or in early 1863, since her baptism at St Barnabas was on 22nd February 1863.  Like her sisters, she visited St Barnabas School from time to time:  in July 1875 the school logbook says, "Miss Mildred Cubitt gave a reading and dictation lesson to Standard II".  She was the first of the Cubitt daughters to marry, on 4th October 1883 at St Barnabas.  Her bridegroom was the barrister George William Tallents, born in 1856 at Newark, Nottinghamshire, son of solicitor Godfrey Tallents and his wife Mary Ann. 
A College friend of Mildred's father, Archbishop Edward White Benson, performed the ceremony.  Benson is noted for devising the "Festival of Nine Lessons and Carols", an order of service first used on Christmas Eve, 1880 in Truro Cathedral where he was Bishop.  Revised for King's College Cambridge, this popular service is now used every Christmas around the world.  When the Archbishop died in 1896, the four married Cubitt daughters (Mildred, Mary Agnes, Beatrice and Adelaide) gave an altar cross to St Barnabas (see photograph above), with a Latin inscription:
To the honour of the most holy Trinity and in dutiful memory of the Most Reverend Edward Archbishop of Canterbury, four sisters led into the holy bond of matrimony and within calling into the one blessing of God gave this cross to the church of Saint Barnabas, given as a gift (D.D) in the year of our Saviour 1897.

For the first years of their marriage Mildred and George Tallents lived at 62 Ennismore Gardens, Knightsbridge, near to Mildred's parents at Princes Gate.  (Nos 61-62 Ennismore Gardens is now the Libyan consulate.)
Mildred and George had five children, the eldest and best known being (Sir) Stephen George Tallents born 1884.  Stephen  vividly describes his early life in and around his Knightsbridge home in his autobiography Man and Boy.  A later chapter "My Grandfather's House" gives through the eyes of a young boy a very enlightening and entertaining view of life at Denbies, and of Stephen's grandparents George and Laura Cubitt, in the last years of the nineteenth century. The St Barnabas School logbook for 9th October 1889 states, "Mrs Tallents visited with her two little boys.  She wished to see the little ones [the Infant Class] do some of their exercises."

Later George and Mildred Tallents moved to 49 Warwick Square, originally the home of Mildred's aunt Lucy Cubitt, and seem to have  lived there for the rest of their lives, George dying in 1924, Mildred on 9th March 1930.  They do not appear to have been buried at Ranmore,
7. Mabel Georgina Cubitt
The  Cubitts' fifth daughter was born at Denbies in 1864 and baptised on 30th October at St Barnabas.  Just over a year later, she died of convulsions at 8 Augusta Place, Worthing on 5th November 1865.  She was buried at St Barnabas on 9th November alongside her older brother Thomas who had died a mere six months before.
Henry was the third, and sole surviving, son of George and Laura Cubitt, eventually succeeding to the barony and the Estate.  Born 14th March 1867 at his parents' London home, London, he was baptised on 1st May at All Saints Ennismore Gardens.  He married Maud Mariamne Calvert at Ockley on 21st August, 1890, and they had six sons, the oldest three being killed in WW1.  Henry died on 27th October 1947 and is buried at St Barnabas with his wife in an impressive grave ( F1 and F2)

9. Beatrice Hayward Cubitt

"Trissie", the youngest of the Cubitts' children, was born at Denbies in 1868 and baptised at St Barnabas on 8th November.  In October 1874 the School logbook states that "Mrs Cubitt and Miss Beatrice visited".  In 1891, at St Barnabas, Beatrice married the son of Colonel Archibald Mottreux Calvert of Ockley Court.  (The groom William Archibald Calvert was the brother of Maud Mariamne Calvert who had married Henry Cubitt the previous year.) 
Stephen and Philip Tallents, the small sons of Trissie's older sister Mildred, were page boys at the wedding, as they had been at Henry and Maud's wedding, and as they later were for Adelaide Cubitt and Richard Fuller-Maitland.  For Trissie's wedding (as for Henry's), Stephen and Philip aged six and five, "went on parade …  in shirts with lace ruffles below short pink satin coats, pink knickerbockers with a bow at the knee, white silk stockings and black patent leather shoes with silver buckles – the whole surmounted by picture hats each bearing an ostrich feather."  What a shame that the photograph, taken by society photographer Vandyk, of the pageboys in this attire, sitting cross-legged at the feet of the bride and groom, has not survived !

The Archbishop of Canterbury Edward Benson performed the ceremony.  Stephen recalls, "we drove to church with Grandfather [George Cubitt], who fancied he was late, and the bride, and arrived there in time to see Archbishop Benson of Canterbury with his retinue walking across from the Rectory."

Before William inherited Ockley Court from his father Archibald Motteux Calvert, the couple lived at Old House, Shipley, Horsham, where in the 1911 census William described himself as a farmer.  The couple had five children. William died at Dorking on 26th July 1943, Beatrice on 12th February 1963.

Copyright©2016
SOURCES

There is a composite list of the sources consulted for George Cubitt and all members of his family on his page, but details for the individual family members are available if required. Most of the sources mentioned can be viewed online via Ancestry, Find My Past and Free BMD.