The meaning of the surname Woodman is fairly self-explanatory, although in the Middle Ages it could also be a form of "Wodeman", someone working with woad (the most common form of dye).  Interestingly, in Victorian times, the distribution of the surname Woodman was mostly in the South and South-west, although also a fair number in Northumberland.

THE WOODMAN FAMILY TREE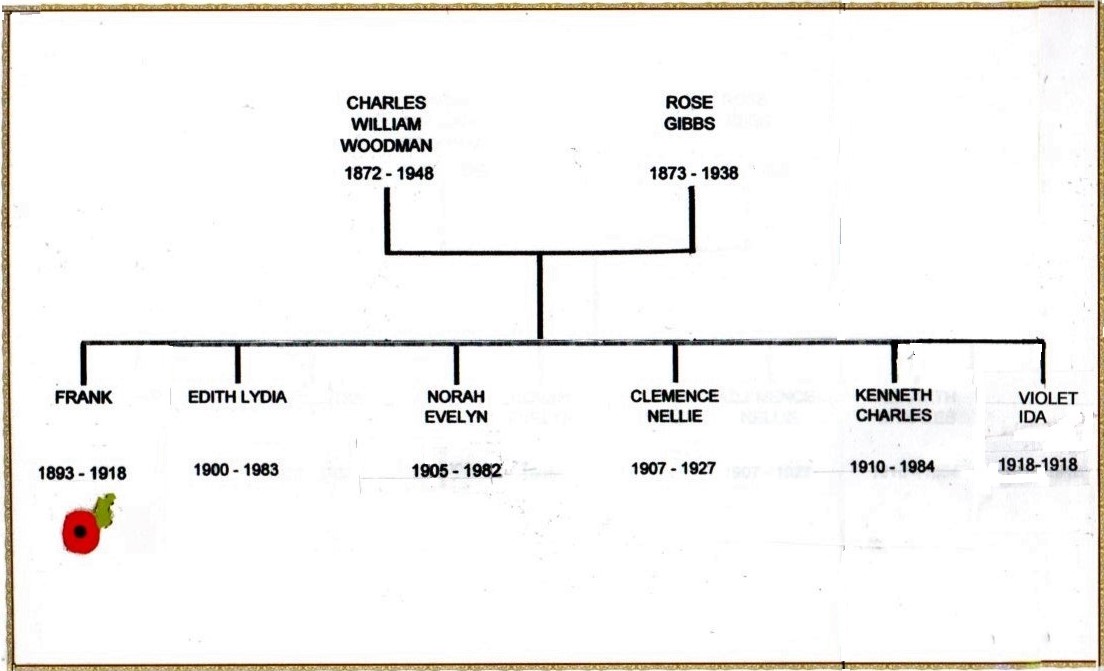 FRANK'S PARENTS
Father:   Charles William Woodman
Charles William Woodman, Frank's father, was born in 1872 at Reigate, Surrey, and baptised on 15th September in St Mark's Church.  He was the son of Charles Woodman "No 1″ (a gardener, born 1846 in Effingham, Surrey) and his first wife Eliza Trevatt who died when Charles William was four.
Charles "No 1″ was the son of Richard Woodman  and his wife  Martha (nee Longhurst) . After Richard Woodman died, his widow Martha married Bartholomew Bennett,and their daughter Lydia Ann Bennett was the mother of Rose Gibbs.  So Frank's parents (Charles William Woodman and Rose Gibbs) were cousins, with the same grandmother but different grandfathers.  

In 1881 the eight-year-old Charles William Woodman is living with his grandmother Martha and her second husband Bartholomew Bennett at No 1 Balchins Lane, Westcott.  By 1891 Charles William is working as a labourer and living at Nutley Lane, Reigate with his father Charles "No 1″ and his stepmother (Charles' second wife Ellen nee Large ).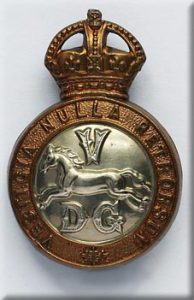 In 1892  Charles William Woodman (the younger Charles) enlisted as a regular soldier in the 5th Royal Dragoon Guards, signing up for what eventually became twelve years.  During his service he was promoted to Lance Corporal,  Corporal and finally Serjeant.  Most of the time he served abroad, including two stints in India and two in South Africa (taking part in the Boer War and subsequently being awarded the King's South Africa Medal with two Clasps).   In 1904 he was discharged to civilian life, resumed work as a gardener and settled in Westcott with his family, first in Victoria Road and later in Bailey Road.  However, he remained an Army reservist and in  May 1918, when his youngest child Violet Ida died in infancy, he is described on her death certificate as "Sergeant 99th Reserve Company Royal Defence Corps".  
Mother:  Rose Gibbs 
Rose was baptised 9th February 1873 in Holy Trinity, Westcott.  She was the daughter of Alfred Gibbs and his wife Lydia Ann, nee Bennett.  (Lydia Ann was half-sister to Charles Woodman's father, Charles "No 1" – see above.)   Alfred Gibbs worked first as a garden labourer and later as a thatcher; he was also sexton and verger of Holy Trinity Church. 
In 1881 the eight-year-old Rose Gibbs is with her parents and siblings in Westcott Street, but in 1891 she is working as a servant in a baker's household in Croydon, Surrey.  By 1901 she is back near Westcott, living at the remote cottage of Tanners Hatch (pictured below) with Frank aged 9 and a baby, 11-month-old Edith Lydia.
By 1911, Charles  and Rose are living in Bailey Road, Westcott, with Frank's four younger siblings.  Eighteen-year-old Frank, their eldest, is working as a gardener and living in Denbies gardeners' bothy.
Charles and Rose were still in Westcott in 1918  when their youngest child Violet Ida was born and died, and their eldest Frank was killed in World War 1.  However, they subsequently moved thirty miles west to Haslemere, Surrey and,  by 1927, when third daughter Clemence died of TB in St Bartholomew's Hospital, we find them living in Stoatley Lane to the east of the town.  Four years later, In 1931 the couple are in Shottermill, a village just to the west of Haslemere, at 2 Eden Cottages, Lion Lane, but by 1934 they had moved to 2 High Lane, Haslemere where they stayed until their deaths.   Rose, aged 65, died on 18th September 1938 in Haslemere Hospital and was buried on the 22nd at Haslemere Church.  Charles followed her in February 1948.
FRANK'S BROTHERS AND SISTERS
Frank's five siblings were:  Edith Lydia, born 1900, Norah Evelyn, 1905, Clemence Nellie, 1907, Kenneth Charles, 1910 and Violet Ida, 1918.

1.  Frank Woodman

Frank, the oldest child, was born  in London in 1893 and killed in action in France in 1918.  See his page for more information.
2. Edith Lydia Woodman 
On 17th April 1900, Frank's oldest sister Edith Lydia was born at Tanners Hatch,  Bookham  (a  remote cottage on the edge of Ranmore Common, which, though tiny, housed a family in each of its two halves).  Edith Lydia was baptised in the parish church of St Barnabas, Ranmore on 21st July, her second name being that of her maternal grandmother Lydia Ann.  By 1911, called simply Lydia,  she is in Westcott with Charles and Rose and several other siblings.
On October 28th 1917 Edith Lydia Woodman aged 17 was married by licence in Holy Trinity, Westcott to Frederick Charles May, aged 21, a chauffeur from Haslemere whose father was John May, an eponymous woodman!  Edith and Frederick went on to have children and grandchildren.  
 Frederick next worked as a bus conductor until during WW1 he went into the Army Service Corps (Motor Transport).  However, he was soon discharged to pension on grounds of ill-health, although, despite his health problems, he lived on until 1956.  By his death he had become an omnibus driver, and was living at  56a Wey Hill (now the shopping street of Shottermill, Haslemere).   Edith Lydia died at Wey Hill in 1983 aged 83.
3. Norah Evelyn Woodman
Frank's second sister was born in Westcott on 16th July 1905 and baptised on 3rd September in Holy Trinity, the church linked to so many of the Woodman family.  In 1911 aged 5 she is with her parents and siblings in Westcott.  In 1930 she married James Boxall in Midhurst, Sussex and they produced at least two children.  Norah died in Midhurst in 1982, James in 1991.

4. Clemence Nellie Woodman
Sadly, the life of the third  daughter was cut short.  Clemence Nellie Woodman, born 18th April 1907 and baptised 19th May at Holy Trinity Westcott, was only 19 when she died in London of heart failure and tuberculosis on 1st March 1927. 
Clemence was apparently still living at her parents' house in Stoatley Avenue, Haslemere, but at her death was a patient in London's famous (and oldest) hospital St Bartholomew's because of her debilitating and, at that time, incurable disease.  On the day she died, her father Charles William Woodman registered her death in London City District, so it seems likely he and maybe Rose her mother had travelled the fifty miles up to the London from their Surrey home to be with her. 
Clemence's body was taken back to Haslemere to be buried on 5th March at the parish church, coincidentally also called St Bartholomew's.  However, the burial register gives her address as Bunch Lane, rather than nearby Stoatley Lane.

5. Kenneth Charles Woodman
Born on 14th January 1910,  Frank's only brother was baptised at Holy Trinity, Westcott on 6th March.  It is obvious from the piece he later wrote for the Westcott Local History Group that the young Kenneth thought a great deal of his "big brother", 17 years his senior.  By 1931 Kenneth was living with his parents Charles and Rose at  Shottermill near Haslemere, and in 1934 in Sunderland he married Annie Clark, born 1909, daughter of a Sunderland shipwright.  At first the young couple lived with Charles and Rose at 2 High Lane, Haslemere;  then, after the older couple's deaths, Kenneth and Annie moved to No 6 Tyndalls, where they are found in the Electoral Registers of 1958-61 along with their grown-up children.  Kenneth died in 1984 in Hindhead, Surrey, Annie in 1993 in Kent.
6.  Violet Ida Woodman
S

adly, the life of the last Woodman child was so brief that she seldom features in family records.  Born eight years after Kenneth, on 3rd April 1918, Violet Ida died a month later on 18th May  at the family home in Bailey Road

after a few days' illness

.   She was buried on 21st May at Holy Trinity, Westcott

. 
1918 was indeed a sad year for the Woodman family.  On 5th April Rose's mother Lydia Ann Gibbs died and was buried in the same churchyard as baby Violet.  And, then within three months of losing their youngest child, Charles and Rose  lost their oldest.   On 31st July,  after surviving four years of a terrible war until its end was in sight, their soldier son Serjeant Frank Woodman was killed in action in France aged only 24. 
Copyright©2016
SOURCES
This is a composite list of the sources consulted for all members of Frank Woodman's family,  but details for the individual family members are available if required. Virtually all of the sources mentioned can be viewed online via Ancestry, Find My Past and Free BMD.

Birth, Marriage and Death Register Indexes and  Certificates, General Register Office (GRO)
Baptism, Marriage and Burial Registers:  St Mark Reigate, Holy Trinity Westcott, St Bartholomew's Haslemere, St Barnabas Ranmore, Surrey History Centre, Woking (SHC)
Census Returns 1841 – 1911,  The National Archives, Kew (TNA)
Royal Hospital Chelsea Pensioner Soldier Service records 1780-1920 (TNA)
British Army WW1 Pension Records 1914-1920, (TNA)
Electoral Registers:  Surrey (SHC), London (LMA)
British Army WW1 Service Medal and Award Rolls, 1914-1920  and Medal Rolls Index Cards, 1914-1920 (TNA)