Warrant Aircraft Officer, Royal Navy (Fleet Air Arm, No. 246979), previously Royal Naval Air Service (No. F46979) 

SON of George and Elizabeth Martha Ansell,
nee Simmonds, of Ranmore Common
BROTHER of Ada Margaret Ansell
HUSBAND of Emlyn Curtis Colver Ansell, nee Clark, of Naphill, Buckinghamshire
FATHER of Reginald George, John William, Emlyn Marie and George Siegward Ansell.
Died at sea 15th November 1942 aged 42
No known grave, but commemorated on the Fleet Air Arm Memorial,  Lee-on-Solent, Hampshire, and the War Memorial of St Michael and All Angels, Hughenden, Bucks

Also remembered at the annual Remembrance Day
Service in St Barnabas Church, Ranmore Common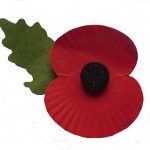 Albert George Ansell has the distinction unique to the Ranmore war dead of serving in both World Wars.  In the last year of World War 1, he signed up for 12 years in the Royal Navy and was killed 24 years later in World War 2 when his ship HMS Avenger was torpedoed near Gibraltar.   Probably because he and his family had lived away from Surrey for several decades, his name does not appear on the Ranmore War Memorial, but of recent years is always read out with those of the other men at the annual Remembrance Service in St Barnabas Church.  (To date, no connection has been found between him and the Albert Ansell on the War Memorial who died on the Somme in 1917.)
Albert George Ansell (known to the family as George and sometimes to his mother as Bertie) was born 10th March 1900 and baptised at St Barnabas on 3rd June.  His parents were George and Elizabeth Martha Ansell, nee Simmonds, George then being a woodman on the Denbies Estate.  Albert's sister Ada Margaret was four years older;  the siblings were cousins of another Ranmore WW2 casualty, Edward George Baker.
The 1901 census shows the infant Albert and family living  in Ashcombe Cottage, the last house at the eastern end of the Common, on the edge of a steep descent through the woods (see Sketch Map for its approximate position).  Albert started at the School on 7th April 1904:  a logbook entry on 5th February 1909 states that, "Albert Ansell has been absent all week unwell".  In 1910 his father died in an accident and the 1911 census shows Albert living with his widowed mother Elizabeth in Yew Tree Cottage, along the road westwards past Denbies Mansion.

On 18th January 1918, Albert George Ansell joined the Royal Naval Air Service as a boy mechanic (F46979).  At his 18th birthday  two months later he signed up officially for 12 years.  He was 5 feet 7 1/2 inches (later 5 ft 9in), brown hair, grey eyes, fresh complexion, occupation carpenter.  However, on 31st March when RNAS was amalgated with the Royal Flying Corps, he transferred to the RAF at Cranwell as Private 2 (246979) .  He was promoted to Aircraft Mechanic in August, and Acting Corporal in 1919.

AGA (as he signed himself) was at Halton throughout 1920 to 1922, being promoted Corporal while there.  After a brief posting at Uxbridge, he was sent to Basra in Iraq, then to India from 1923 to 1927.  While serving in the Carpenter's shop, Aircraft Depot,  Karachi, he was promoted to Sergeant.  He was involved as ground support for the historic first flight to Australia by Alan Cobham in 1926, possibly also the first flight from the Netherlands to the Dutch East Indies.  In 1925, when Albert's mother was very ill, Lord Ashcombe was asked to use his influence to get the young man home from India on leave.
In 1927 there followed a home posting to 1 Flying School, Netheravon, Wiltshire, during which time, a keen cyclist on long arduous rides, he met another member of the Cyclists Touring Club Emlyn Curtis Colver Clark, nicknamed Jack.  Born in Gainsborough, Lincolnshire on 27th February 1899, Emlyn was the younger daughter of Edwin J. Clark, born London, a technical photographer, previously first engineer on steamships.  Her mother was Siegwardine Peacock, born in Sunderland, County Durham.  Siegwardine's own mother came from a land-owning Dutch family, but her father Reginald Peacock was English, a Sunderland ship owner, from a landowning Yorkshire family with close links to the Bligh family (William Bligh was a cousin).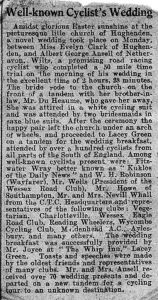 Emlyn Clark and Albert George Ansell married on 9th April 1928.  Quite an occasion: the groom cycled a 50-mile time trial on his wedding morning;  the bride rode to Hughenden Church, Bucks on a tandem wearing a white cycling suit;  the newly weds left church under an arch of wheels and then cycled to the wedding breakfast on a tandem;  over a hundred cyclists attended the reception; and the happy couple departed for their honeymoon on a brand new tandem. 
From 1928, and in April 1929 when Reginald George, the eldest of their four children, was born, Albert George and Emlyn were living at Enford near Marlborough. In March 1930 their address was The Caravan, Haxton, Netheravon, but the following October Albert George was transferred to 100 Squadron at Bicester, Oxfordshire, where the aircraft flown were Horsleys.  In November 1930 the Squadron transferred to Donbristle;  Emlyn followed George north and their second son John William was born in Scotland in 1931. 
Later that year A G Ansell was promoted Flight Sergeant, and early in 1932 posted to Aden and 8 (B) Squadron which flew Fairey III F's on security patrols, aerial surveys, and peacekeeping in the Aden Protectorate and Abyssinia.  Albert lived in the Sergeants' Mess, occupying his leisure time with golf, until the family joined him in March 1933.
Late in 1934 they accompanied him to Middle East Command for a two-year posting in Egypt with 45 Squadron. In 1936 Albert went to Kenya on his own, but early in 1937 was posted back to England.  His son John remembered his father coming home on leave, having cycled to High Wycombe from Felixstowe: 125 miles!  AGA was promoted to Warrant Officer In October 1938, posted to Honington, and then to 103 Squadron in Benson where the family again joined him.
AGA was a very accomplished artist, mainly in pen and ink, as his drawing of his Ranmore home Yew Tree Cottage (above) shows.  He was good with his hands and liked making things, including large toy yachts for his sons.  He also liked designing, and had drawn up plans for a future home for his family. 
When war broke out on 3rd September 1939, Albert was already in France.  His family were given 24 hours to leave their accomodation at Benson, so Emlyn took her sons to live with her sister Regina Marie Du Heaume at Hughenden.  In October AGA was in the British Expeditionary Force and spent Christmas in France, managing to get ten days' home leave in January.  He was evacuated home wounded in May 1940, just before the Retreat from Dunkirk.  Recovered from his injuries, he went briefly to 1 Depot (NE) Uxbridge, then to 7 School of Technical Training, and Cosford on 5th September.  His only daughter Emlyn Marie was born on 30th October 1941. In the November he was offered a transfer back to the Royal Navy (Fleet Air Arm) as Warrant Aircraft Officer.  He was in New York for the fitting-out of the aircraft escort carrier HMS Avenger, which left Brooklyn Navy yard in April 1942, arriving Glasgow 11th May. 
Based at Arbroath, Scotland, AGA then saw a great deal of action in the Atlantic convoys, and in September 1942 Avenger was escort to one of the largest and most successful Arctic convoys (PQ18 outward to Russia and QP14 homeward; the latter was the remnants of the shattered convoy PQ17, one of the worst British sea disasters in WW2).  There is a very detailed and graphic account of the action involving PQ18 and QP14 in the angry, merciless freezing seas written in "Arctic Destroyers" by G.C. Connell (published William Kimber, 1982). The German High Command were very disappointed at the outcome of their 12-day attacks on these two convoys, and laid much of the blame for failure on the gallantry of HMS Avenger and her crew.

In November 1942 Avenger took part in "Operation Torch", the Allied invasion of North Africa which landed 100,000 troops on the beaches successfully. The carrier was to operate close inshore, providing constant fighter cover with her 15 Sea Hurricanes over the beach assaults.  Several torpedoes narrowly missed Avenger and caused engine trouble, so, her task done, she returned to Gibralitar for repairs.
On 14th November Albert wrote an affectionate letter home from Gibraltar.  He has been thinking of them all, his wife, his two "big boys", and especially remembering his dear little daughter on her first birthday two weeks previously.  He hopes to be home soon, when he will have "a whale of a lot to tell them". 
A particularly poignant letter because written the day before he died.  HMS Avenger left Gibraltar that same day, escorting eight merchant ships back to the UK.  At 2.55 am on the 15th November she was torpedoed by the German submarine U133 which had been lying in wait.  The torpedo hit Avenger on the port side, by the bomb store, just above the fuel tanks, causing an internal explosion.  Enveloped in flames, she broke in two, and sank immediately:  three minutes after the explosion there was nothing left.  Only 12 men were picked up at dawn, 501 lost.  Albert George Ansell was posted as "missing, presumed killed".  It was many years since Albert had lived on Ranmore Common, but Lord Ashcombe sent condolences to his family.
Albert George's third son George Siegward Ansell  was born on 19th March 1943, four months after his father's death.

Albert George Ansell would have been entitled to wear the British War Medal from World War 1, the RAF Long Service and Good Conduct metals, and the four 1939-45 medals, including Africa and  Atlantic Stars.  He was also awarded the Arctic Star Emblem created in 2006.

His address on his probate was his sister-in-law's house Woodbarn, Boss Lane, Hughenden, High Wycombe, Buckinghamshire, and his executors were his sister Ada Margaret Bishop and sisters-in-law:  Emlyn's sister Regina Marie Du Heaume, and Bertha, the wife of Emlyn's brother Edwin Siegward Clark.  Emlyn died in High Wycombe nearly 40 years later on 19th November 1979.

Albert George's body was never found, but his name appears on the Lee-on-Solent Memorial.  Lee-on-Solent was the principal base of the Fleet Air Arm.  Carved on this Memorial are the names of 1926 personnel who died during World War 2 and who have no known grave.

Copyright©2016
SOURCES
Many  of the sources mentioned are available online via Ancestry, Find My Past and Free BMD.
Commonwealth War Graves Commission (CWGC)
Birth. marriage and death registers, General Register Office (GRO)
Baptism, marriage and  burial registers, St Barnabas Ranmore Common, St Martin's Dorking, Surrey History Centre (SHC); 
Censuses 1841 -1911 The National Archives (TNA).
St Barnabas C of E School Admission Register and Logbook (SHC)
Royal Navy Registers of Seamen's Services, 1853-1928 (TNA)
St Michael and All Angels, Hughenden, Bucks website (war memorial pages),
National Probate Calendar for England and Wales, Principal Probate Registry

Grateful thanks are due to members of Albert George Ansell's family who very kindly gave information on both him and his immediate family, and also allowed reproduction of the family photographs shown on these pages (which are their copyright)
MORE ON ALBERT  GEORGE ANSELL'S FAMILY
…………….