The surname Rice is a version of Price (in Welsh, "the son of Rhys").  Price is, unsurprisingly, very common in Wales and the South-West, but in Victorian times Rice is fairly well distributed throughout England and Wales, with large conglomerations in Devon and Lancashire, and fair numbers in the South-East.
There are two other men with the surname Rice on Dorking's South Street War Memorial, and Muriel, the niece of Frederick Buckland of the Ranmore War Memorial, married Sydney H. Rice.  So far no connection has been made between any of these and Nathaniel Rice's family.
THE RICE FAMILY TREE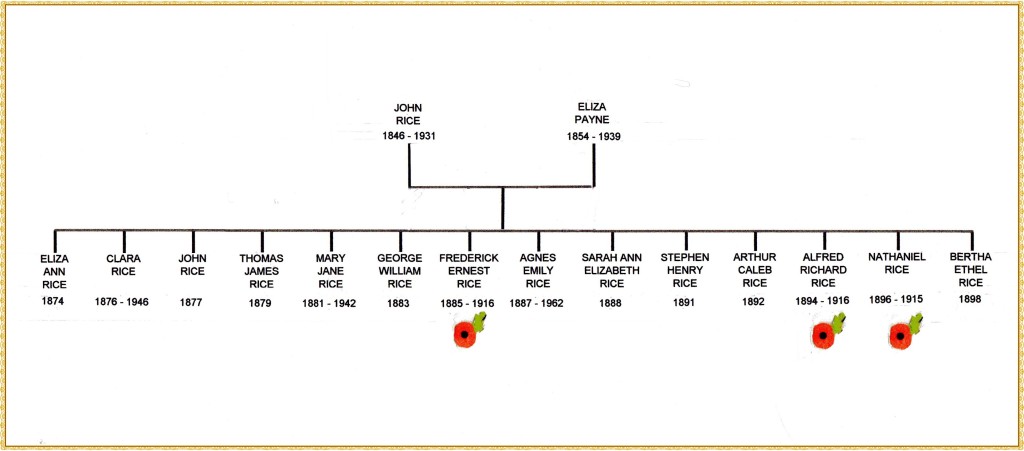 NATHANIEL'S PARENTS
Father:  John Rice
Nathaniel's father John Rice was born in 1846 in Crawley, Sussex, then a small town of a few thousand people, long before it expanded so greatly through the building of a New Town.  John was one of the children of Stephen, labourer, and Mary Rice (nee Charman), and baptised 28th August in  St Nicholas in the nearby village of Worth.  By 1861 his family were living in Worth, and by 1871 the father Stephen is working there as a shepherd.  One of John's younger brothers (aged only 13!) is a gamekeeper.  (Twenty or so years later, another of the brothers, Thomas, and his wife Katharine, adopted a motherless girl Beatrice, who became the grandmother of Barry Ray, compiler of the wonderful Slaugham Archives – see photographs below.)

On 5th July 1873, claiming to be 28, Nat's father John Rice married the 20-year-old Eliza Payne at St Nicholas Worth. Both were living at Worth, both made their marks on the marriage register.  Emily Rice (probably John's younger sister) was a witness, but signed her name.  The following year, the first of John and Eliza's extremely long line of children was born – a girl, and they named her Eliza Ann.  By 1881, when they were living in High Woods, Worth, they had added another four children to their family, and John had work as an agricultural labourer.
Ten years later, in 1891, John had become a carter and the family (minus the two eldest girls, both probably in service) had moved to Black Cottage, near Shelley Farm on the Buchan Hill Estate at Pease Pottage, near Crawley.   By 1901 the family had moved into Shelley Farm itself, next to Buchan Hill Lodge,  John and his son John Junior are both carters, two other sons are a cowman and a shepherd.
John then became a waggoner, and by 1911 had moved his family to Home Farm which they shared with several other families.  All the girls had left home, except for Bertha, the youngest.  Seven of John's eight sons worked on the Estate in various capacities.  Nathaniel, now almost 15, is a gardener.
After that, John and Eliza do not figure greatly in the official records except as the parents of three sons killed in WW1, none of whom has a known grave.  John himself died in 1931 aged 85, in Horsham district.

Mother:  Eliza Payne
Nathaniel's mother Eliza was the daughter of James Payne, agricultural labourer, and Eliza (nee Valence). Born in 1854 in Worth, Sussex, the child was baptised at the church of St Nicholas Worth on 23rd April 1854.  By 1861 the Payne family are living in Copthorne, Sussex, next to a grocer's shop, and are still in Copthorne in 1871. On 5th July 1873 aged 20 Eliza married John Rice, and shortly afterwards started their long line of fourteen children, all apparently surviving to adulthood (quite a feat in Victorian times).

Eliza's life parallels John's, notable for the tragic loss of three of their sons in World War 1.  After leaving Buchan Hill, she and John probably moved to 3 Albany Road, Ifield, because their grandson John Nathaniel Rice (Nat's son) was born at that address on 28th October, 1915 (two months after Nat had died at Gallipoli),  By March 1916, when her eldest son John enlisted, there is a definite address for Eliza and her husband:  80 Ifield Road, Crawley.  Surviving John, Eliza died in 1939, just before the outbreak of World War 2.
 NATHANIEL'S  BROTHERS AND SISTERS
Nat's siblings were Eliza Ann (1874), Clara (1876), John (1877), Thomas James (1879), Mary Jane (1881), George William (1883), Frederick Ernest (1885), Agnes Emily (1887), Sarah Ann Elizabeth (1888), Stephen Henry (1891), Arthur Caleb (1892), Alfred Richard (1894) and Bertha Ethel (1898).  They were born in a fairly small area in and around Crawley, but there seems to be little pattern between their places of birth and baptism.  Their births were registered in Cuckfield, Horsham or East Grinstead registry offices, but their actual places of birth vary from census to census, and they do not always seem to be baptised in the nearest church to the place of birth. Apart from Crawley itself, villages mentioned are Worth, Slaugham (pronounced "Slaffam", a parish also containing the settlement of Pease Pottage), and Colgate.  ( As far as possible a place of birth given is from the census.)

There is also the mystery of how many Rice children there were: fourteen as on the 1911 census, or fifteen if the "Johanna E Rice" on the 1901 census is another child.   For reasons explained in Sarah Ann Elizabeth's entry (No 9 below), it has been cautiously concluded that she and Johanna are the same person and accordingly there were fourteen young Rices, not fifteen.
1. Eliza Ann Rice
The eldest Rice child was born on 24th August 1874 in the parish of Slaugham, a village seven miles south of Crawley.  She was baptised Eliza Ann on the 7th June at the recently consecrated church of St Saviour's in the adjacent village of Colgate.   In the 1881 census, aged six, she is with the family at High Woods, Worth, but by 1891 no longer there, probably in service somewhere.  It has proved difficult to find a marriage or death.

2. Clara  Rice
The Rices' second daughter was born 1876, in Slaugham parish like her elder sister, but is easier to trace. In 1891 she is a general servant at a Pease Pottage pub called "The Grapes", run by the widowed Mary Comber, and by 1901 she is at St Leonard's (near Hastings), a housemaid at Devonshire House, Upper Maze Hill, the residence of retired and widowed farmer John King.

Clara Rice married in July 1902 in Horsham district.  Her bridegroom was Charles Child Grantham, born in Pulborough, Sussex 1877.  By 1911 the couple are at 26 Albany Road, Crawley with Charles' parents (father a retired grocer) and their own three children.  (A fourth child has died.)  Charles and Clara seemed to have had at least three more children, all born in Horsham district.  From 11th June 1906 Charles Child Grantham was employed by the London, Brighton and South Coast Railway as a carman at Crawley railway station, starting wages one shilling and three pence a week, rising to £2.17.6d by 1922.  There is no trace of him in WW1, but as a railway worker he was probably in a reserved occupation.  A Clara Grantham died in 1946 in Chichester district;  Charles seems to have died in 1961 in Horsham district aged 83.

3. John Rice (junior)
The eldest of the Rices' eight sons was born in 1877 in Slaugham parish and baptised on 4th November 1877 at St Saviour's Colgate. In 1891, at his parents' home Black Cottage, Crawley, apparently aged 16 (actually 13),  his occupation is delightfully described as "cowboy".  In 1901 he is at Shelley Farm, Buchan Hill, but now following his father's occupation as a carter on a farm.
In 1911 John Junior is at Home Farm, Buchan Hill, but on 20th March 1916 (seven months after his youngest brother Nathaniel had died at Gallipoli) he enlisted at Horsham.   His service papers show he was aged 39, still a carter, unmarried, still living with his parents at 80 Ifield Road, Crawley.  He was a little over 5 feet, 116 lbs, medical category B II, and deaf.  John was also classified illiterate (he "made his mark" on his enlistment papers, though by his discharge three years later he appears to have learnt to scrawl his name).  His original preference was for the Royal Sussex Regiment, but he was sent to the DCLI (Duke of Cornwall's Light Infantry) as Private 25779,  subsequently transferred as Private 93984 to Unit 157 Labour Corps (made up of men not fit for duty in the war zone).  He embarked for France at Southampton on 7th June 1916.  He was transferred to the Reserve on 28th March 1919 and  awarded the British War and Victory Medals. 
It is not certain whether he married, but he may be the John Rice who died in 1967 aged 89 in Midhurst district

4. Thomas James Rice
The Rices' second son was born in September 1879 in Worth. He is not with the family in the 1901 census, and so far nothing more has been found of him.
5. Mary Jane Rice
Mary Jane was the third daughter:  born in 1881 in Worth, baptised 6th February at St Mary's Slaugham.  By 1901 she was a servant  in the Brighton house of a shopkeeper-cum-watchmaker, but on 3rd March 1903 in Horsham Registry Office she married James Albert Wickham, a farm labourer, eventually producing seven sons and three daughters.  By the 1911 census the couple were living in New England Cottage, Brantridge, Balcombe (south of Crawley), probably on the Brantridge Estate;  with them were their four eldest children:  (Albert) James, b.1903;  William George (1906);  Winifred May, later Vinall (b. 1908),  and Gladys Beatrice (also known as Dawn), later Turner  (b. 1910 ).  
Subsequent children – (Horace) Edward (1912), Frederick John (1913) and Alfred Sidney (1916) – were registered in Uckfield district, after  the family had moved to Blackboys, Sussex, a small village inland from the South Downs and near to the Ashdown Forest.  Originally its main industry was making charcoal from local woodlands.  Many of the Wickham children subsequently lived all their lives in and around Blackboys, and the ashes of some are interred in the churchyard of the adjacent village of Framfield.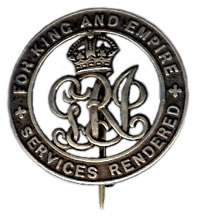 On 11th July 1916, aged 39,  James Albert Wickham enlisted in the Durham Light Infantry (Private 326910, 5th Battalion),  classified as fit for garrison duty.   His address was Backhouse Cottages, Blackboys, his occupation stockman and labourer, and the names and ages of the seven children so far born were logged. However, on 20th June 1918, James was discharged as physically unfit for military duties, with a pension of 27 shillings and 6 pence per week.  He was granted a Silver Badge, issued to service personnel honourably discharged due to sickness or wounds.  Such a badge was necessary because some women used to present the dreaded white feathers (for cowardice) to apparently able-bodied young men who were not wearing the King's uniform.   James Albert's address on discharge was Tinkhurst Wood, Blackboys. 
More children were born after his return from war – Douglas David (1919); Doris Ivy, later Thompson (1922), and (Dennis) Roy (1924).  Mary Jane Wickham died in 1942 and was buried in Framfield churchyard.  James followed her in 1949.  For more about their children and grandchildren, please use the Contact page.

6. George William Rice
Born in 1883 at Worth, the next Rice son was baptised on 3rd June 1883 in St Mary's Slaugham.  By 1901 he was a cowman, and in 1911 doing the same job on the Buchan Hill Estate. He was of an age for WW1, but there are no extant service records for him. Various medals  were awarded to men named George William Rice, but none is conclusively this George William.  There are possible marriages but no obvious death for him.

7. Frederick Ernest Rice
Of the three sons of John and Eliza Rice who were killed in WW1, Frederick Ernest was the second to die.  Born in Worth in 1885, by 1901 he was living with his family at Shelley Farm,  working as a shepherd.  By 1911, he had become a waggoner on the Buchan Hill Estate, like his father.
When he enlisted at Horsham, Frederick became Private G/21154, 11th Battalion Middlesex Regiment (Duke of Cambridge's Own).  Aged 28, he was killed in action on the Somme on 28th July 1916, almost a year after his youngest brother Nathaniel died at Gallipoli.  He has no known grave, but his name is among more than 72,000 others (including his younger brother Alfred) on the mighty Thiepval Memorial to the Missing of the Somme,   Pier and Face 12 D and 13B.  Like his brothers Nathaniel and Alfred Richard, he is also remembered on the Crawley War Memorial Gates.   Posthumously he was awarded the British War and Victory Medals.
 8. Agnes Emily Rice
Agnes Emily, the Rices' fourth daughter, was born in Worth in 1887.  Aged four, she is with the family in 1891 at Black Cottage, Crawley, but not in the 1901 census.  On 12th August 1908 she  married David James Phillips in Horsham district.  David James was born in 1878.   By 1911 the couple are living with his widowed mother and two of his brothers (all born Washington, Sussex)  at 17 Horsham Road, Crawley.  David is a joiner, and he and Agnes have two children.  Other children seem to have been born later in Horsham district;  in total the couple produced a family of eight.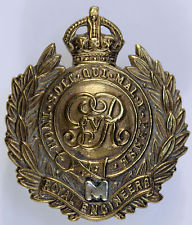 On 10th December 1915 aged 39 David James Phillips enlisted at Horsham as a skilled carpenter in the Royal Engineers, becoming Sapper No. 217095,  height 5 foot 8.5 inches, medical category A1.  He was transferred to the Reserve on 1st May 1919.  He received the British War and Victory Medals.   He died in Crawley in 1929,  Agnes in 1962 in Horsham district.
One of their sons, born August 1910, was named after his father; in 1959 this David James Phillips was living at 17 Horsham Road, Crawley and died in August that year at Old Timbers, Lowfield Heath, Charlwood, Surrey.   

9. Sarah Ann Elizabeth Rice (?aka Johanna E Rice)
Sarah Ann Elizabeth, the fifth daughter, was born late 1888 in Crawley and baptised 20th January 1889 at Colgate, Sussex.  Aged 2, she is with the family at Black Cottage, Crawley in the 1891 census.  However, she is not with them in 1901 at Shelley Farm, but another daughter is (Johanna E. Rice, aged 11, born Colgate). 
Johanna is a mystery.  Her birth has not been traced, nor does she appear in the records anywhere else.  Also, in the 1911 census the Rices say that they have had 14 children, none of whom have died.  But if Sarah and Johanna are two separate people, that would add up to 15 children.  It could be that, with so many children, the Rices got the numbers wrong (!), but the elusiveness of Johanna puts a doubt on that supposition.

So the current conjecture is that Sarah and Johanna are the same person. Maybe the census enumerator misheard or misread the name:  Ann = "anna" and Elizabeth = E.   Admittedly, Sarah and the "Jo" part of Joanna do not sound at all similar and "Johanna's" age is a year out:  if born December qtr 1888 she should have been 12 on Census Night 1901 (31st  March), but then the Rices got the ages of some of their children wrong.  Not that coming to this conclusion helps much since neither Sarah Ann Elizabeth nor Johanna E Rice seem to feature subsequently in the official records!

10. Stephen (Steven) Henry Rice
Named after his paternal grandfather, the fifth son of John and Eliza Rice was born in early 1891 in Crawley.  He is with his family through the first few censuses:  in 1891 at Black Cottage, in 1901 at  Shelley Farm, and at Home Farm, Buchan Hill in 1911 when, aged 19, he is working as a farm labourer on the Estate. 
From the Medal Rolls (British War and Victory Medals) he is probably the Stephen Henry Rice who served in WW1, first as Private 39464 in the Norfolk Regiment, later as Private 52177 in the Bedfordshire and Hertfordshire Regiment.  However, there are no extant service records for this.  In Dec 1922 he appears to have married Ruth R Budgen at Horsham, but it is not clear if they had children.  An online family tree states Stephen Rice died in Battle district, Sussex in June qtr 1965, but this has not yet been substantiated from official records
11. Arthur Caleb Rice
In 1892 yet another son was born to John and Eliza Rice:  Arthur Caleb in June qtr in Crawley.  By 1911, still living with the family, he was a cowman at Buchan Hill.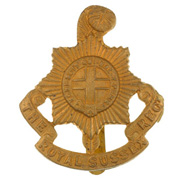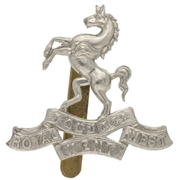 Arthur served in WW1, according to his British War and the Victory Medals:  Private 3111, 11th Royal Sussex Regiment, then Private G/31350 6th Battalion Queen's Own (Royal West Kent Regiment),  
He is possibly the Arthur C. Rice who married Minnie E Holden in Horsham district in 1920, and several Rice children were born with the mother's surname Holden, all in Horsham district.  Not much more has been found about the family, except for a possible death for Arthur Caleb in Brighton district, March qtr 1946.

12. Alfred Richard Rice
Alfred Richard, Nathaniel Rice's next oldest brother, also died in WW1.  Alfred, born in Crawley, was baptised at St Mary's Slaugham on 4th March 1894.  By 1911, still living with the family, he was a gamekeeper on the Buchan Hill Estate.
Enlisting at Crawley, he became Private SD/2118 of the 11th Battalion Royal Sussex Regiment.  Fourteen months after Nat's death and three months after that of his older brother Frederick Ernest, Alfred was killed in action on 21st October 1916 on the Somme during the capture of the Schwaben Redoubt near Thiepval.  He was twenty-two. 
Like Frederick Ernest, he is commemorated on the Thiepval Monument to the Missing of the Somme, in his case on Pier and Face 7 C.   Like his brothers Frederick Ernest and Nathaniel,  Alfred Richard is also remembered on the Crawley War Memorial Gates.  He was awarded the British War and Victory Medals posthumously.

13. Nathaniel Rice
Nathaniel, of the Ranmore War Memorial, fits in here in the family order, born in Crawley 1896 and dying at Gallipoli on 6th August, 1915.  See his page for more details of his life and death.
14. Bertha Ethel Rice
The last Rice child was a girl, born early 1898, in Crawley.  Bertha Ethel is still with the family in  1911, when she was at school, but there seems to be little more hard information after that. It is not clear whether she married or had children, or when and where she died.
Copyright©2016
SOURCES
This is a composite list of the sources consulted for all members of Nathaniel Rice's family, but details for the individual family members are available if required. Virtually all of the sources mentioned can be viewed online via Ancestry, Find My Past and Free BMD.
Birth, Marriage and Death Register Indexes, Marriage Certificates, General Register Office (GRO)
Baptism Registers:  St Nicholas Worth, St Saviour's Colgate, St Mary's Slaugham (England Births and Christenings, 1538-1975 index, FamilySearch (IGI)
Census Returns 1851 – 1911, The National Archives, Kew (TNA)
UK, Railway Employment Records, 1833-1956, London Brighton and South Coast Railway (TNA)
Commonwealth War Graves Commission (CWGC)
Soldiers Died in the Great War (SDGW)
National Probate Calendar for England and Wales, Principal Probate Registry
British Army WW1 Service Records 1914-1920; WWI Service Medal and Award Rolls 1914-1920;  British Army WW1 Medal Rolls Index Cards 1914-1920 (TNA)