Private G/36825, 2nd/20th Battalion London Regiment,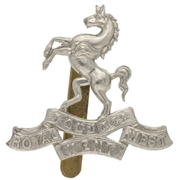 Queen's Own (Royal West Kent Regiment),
formerly Private G/2316, 1st, 8th and 19th Battalions The Queen's (Royal West Surrey Regiment)

SON of Jabez and Esther Dawe of Cowbeech, near Hailsham, East Sussex
BROTHER of Albert, Elizabeth, Anne, Cecil, Kate
and Wilfred Dawe
Died  4th November 1918 aged 24
Buried St. Sever Cemetery Extension, Rouen, France

Also remembered in St Barnabas Church, Ranmore Common
and on Bodle Street Green War Memorial, East Sussex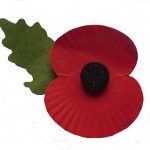 The date is 4th November 1918, exactly one week before Armistice Day.  It is notable for the death in action of the celebrated war poet Wilfred Owen, whose mother received the telegram advising her of his death on the morning of the 11th just as the bells were ringing to celebrate the cessation of hostilities. 
No doubt many other men also died on the 4th November and their families all received the same terrible news.  One of these men was George Dawe, an assistant gamekeeper, whose name is on the Ranmore War Memorial and who we believe to be the man detailed above.  In fact, there is nothing in the official records specifically to link this George Dawe with Ranmore Common, but it has been deduced he is the right man for various reasons: 
1. In the 1911 census he had the right sort of job – as assistant gamekeeper on an estate (albeit in East Sussex, not Ranmore Common in Surrey) .
2. He originally enlisted in the Queen's (Royal West Surrey Regiment) as did many of the Denbies men. 
3.  The other three men called George Dawe who died in WW1 each have a middle name (not simply "George"). 
4.  These three men have no such obvious links to either Surrey or Sussex, but to widely dispersed places such as Birmingham, Dorset and Cornwall.

Assuming this is the correct George Dawe, he was born 9th May 1894 in the hamlet of Bodle Street, near Herstmontceaux.   His parents were Jabez and Esther Dawe, and he had six surviving brothers and sisters.  Jabez was a journeyman carpenter, and when George was a schoolboy in 1901 the family were living on Cowbeech Hill, two miles from Herstmontceaux. 
Ten years later the 16-year-old George is in Bodle Street Green, boarding in the household of a widow Mary Dawe aged 78, born Warbleton, of private means.  Also in the household is Mary's daughter Esther aged 49.  It looks as if Mary was George's paternal grandmother and Esther his aunt.  It is this document which makes it most likely George is our man, because it spells out that he is working as an "assistant gamekeeper on an estate".  It is difficult to establish which estate, especially as most of the properties around there seemed to be farms rather than landed estates.
George does not show up in the Surrey Electoral Rolls, but until 1915 he would have been too young to vote.  However, it is feasible that he obtained an under-gamekeeper's job at Denbies, possibly after both assistant gamekeepers (Frederick Buckland of the War Memorial and Walter Hitchcock) enlisted.   (In the 1911 census Walter aged 18 lodged at gardener George Bradley's house, Ashcombe Cottage, on the eastern end of the Common;  Frederick, also 18, lived with his parents in Stoney Rock Cottage at the western end.  The gamekeeper  James Smallpiece lived at Keeper's Cottage on Old Deane Lane, now Ranmore Common Road. The Sketch Map shows the approximate position of these cottages.)

George Dawe himself enlisted at Guildford in The Queen's (Royal West Surrey Regiment) as Private G/2316.  The Medal Rolls detailing his British War and Victory Medals indicate that he served in various battalions of the Queen's (8th, l9th, 8th again and 1st) before transferring to the 2/20th Battalion of the Queen's Own (Royal West Kent Regiment) as Private G/36825.  He has no extant Service Documents, but he died near Rouen on 4th November 1918.  His record just says, "Died", so probably of wounds, a conclusion reached because there were a large number of hospitals around Rouen during the war.  The majority of the dead were taken to the city's cemetery of St Sever until in September 1916 an extension was necessary.  St Sever Cemetery  Extension had 8,348 Commonwealth burials from WW1.  And it was in this Extension that George Dawe was buried.
After the war George's name was included on the Ranmore War Memorial in St Barnabas Church. He and ten other men are also commemorated on the War Memorial in the churchyard of St John the Evangelist in his home village of Bodle Street Green.
Copyright©2016
SOURCES
Many  of the sources mentioned are available online via Ancestry, Find My Past and Free BMD.
Commonwealth War Graves Commission (CWGC)
Soldiers Died in the Great War (SDGW)
Birth register and birth certificate, General Register Office (GRO)
Censuses 1901, 1911, The National Archives (TNA).
WWI Service Medal and Award Rolls (TNA)