The three Cubitts on the Ranmore War Memorial (Henry Archibald, Alick George and William Hugh) were the oldest of the six sons of Henry, 2nd Lord Ashcombe, and Maud Marianne nee Calvert.  Henry and Maud created the Cubitt Chapel in memory of their lost sons.  Henry was the only surviving son of George Cubitt, 1st Lord Ashcombe, and his wife Laura nee Joyce.

George Cubitt built St Barnabas Church. and developed the Denbies Estate inherited from his father, building around 30 cottages, the School, the Rectory and the Dispensary.  He also purchased vast tracts of other land, mostly in Surrey, to extend the Estate.  George and his wife were very philanthropic and did much for the welfare of their workers and tenants.    George was the eldest surviving son of Thomas Cubitt, the famous London builder, and his wife Mary Anne nee Warner. 
Thomas Cubitt purchased the Denbies Estate and built a great mansion there. He had two brothers:  another notable London builder Sir William Cubitt and the architect Lewis Cubitt.  Their sister Mary Agnes Cubitt (later Cuthell) had a son Andrew who was Thomas Cubitt's right hand man.

Henry and Maud Cubitt's six sons were as follows: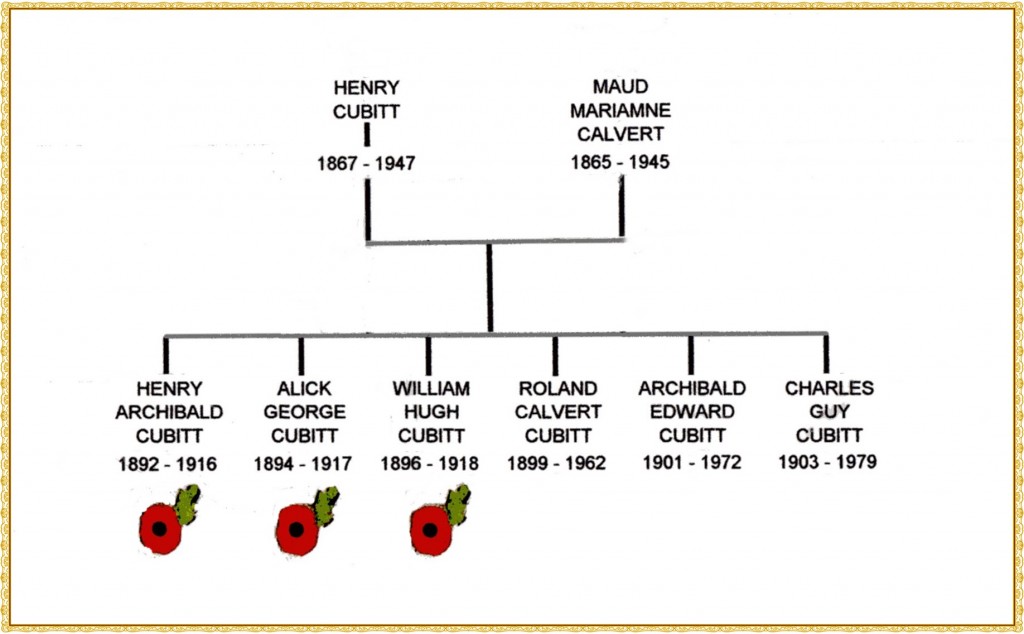 1. Henry Archibald Cubitt, born 3rd January 1892, died 15th September 1916
2. The Hon Alick George Cubitt , born 16th January 1894, died 24th November 1917
3. The Hon. William Hugh Cubitt, born 30th May 1896, died 24th March 1918
4. Roland Calvert Cubitt, 3rd Lord Ashcombe, born 26th January 1899, died 28th October 1962, married 1. Sonia Keppel, daughter of The Hon. George and Alice Keppel;  2. Idina Joan Mills nee Myddleton;  3. Jean Baylis nee Garland.  Children of first marriage:  Henry Edward ("Harry"), 4th Lord Ashcombe;  Jeremy ;  Rosalind (married Major Bruce Shand, children Mark; Camilla (later Parker Bowles, then Duchess of Cornwell);  Annabel (later Elliott).

5. The Hon. Archibald Edward Cubitt, born 16th January 1901, died 13 February 1972, married 1. Lady Irene Helen Pratt;  2. Sibell Margaret Norman.  Son of first marriage: Alick, grandchildren Amanda (later Sweeting);  Belinda (later Naylor);  children of second marriage: Mary Sibell;  Priscilla Margaret (later Countess of Harrington);  (Mark) Robin.  Mark Robin had three sons:  David;  Hugo; and Mark Edward (later 5th Lord Ashcombe).

6. The Hon. Charles Guy Cubitt, born 13th February 1903, died 1979, married Rosamund Mary Edith Cholmeley.  Children: Sir Hugh Guy Cubitt, married Linda Ishbel Campbell  (one son, two daughters);  Sylvia Rosemary Cubitt, married Major Ronald James Grant Dallas  (one son, two daughters);  Celia Mary Cubitt, married Patrick Thomas Conolly-Carew, 7th Baron Carew (one son, three daughters)

Copyright©2016