The family's surname of Caton is spelled alternately as Caten, Cateon, Catton.  In the nineteenth century, variants of the name predominated in Yorkshire and Lancashire, but there are many Catons also in Norfolk and Essex, which ties up with the Essex origins of Percy's father George.

THE CATON FAMILY TREE

PERCY'S PARENTS
Father:  George Caton
Percy's father was born in 1854, the third son of Jonathan Catton (Caten), a farm labourer, and his first wife Elizabeth. The censuses vary about George's birthplace (Waltham Abbey where he grew up, even Walthamstow), but his birth was actually registered in Saffron Walden.  Probably he could not read or write:  apart from the various spellings of his surname, he "made his mark" on his marriage certificate, and his son Frederick filled in the 1911 census for him.
At some time George left his parents and siblings in Essex and moved to Dorking where he married Eliza Tanner in the Register Office on 26th May 1877 (his surname then being spelled Cateon).  George and Eliza lived in and around Back Lane (now Church Street):  all their ten children were born there, most were baptised (and one at least buried) at the church at the end of the lane (St Martin's).

George Caton seems to have done various jobs – smith, (bricklayer's) labourer, gardener.  Then, in November 1899, he became the house porter at Denbies House and moved to Ranmore Common. He is probably the "Mr G Caton" on Lord and Lady Ashcombe's Golden Wedding scroll (see under "Frederick Caton" below).  In 1915 Emily Caton (his daughter) described him at "house porter" on her marriage certificate, possibly her social embellishment because on the 1911 census, his son Frederick said that George was, once again, a labourer.  After his wife died in 1917,  George Caton stayed on Ranmore Common from 1919 to 1922.   His eldest daughter Annie Eliza was also living there, probably to keep house for him.  George died in 1927 in Taunton, Somerset (his daughter Emily's home), but he was buried in St Barnabas churchyard (probably in the same grave as his wife).
Mother:  Eliza Tanner
Percy's mother Eliza was the daughter of Henry and Martha Tanner from a long-standing local family (Westcott and Dorking).  Henry Tanner was a lime carter, no doubt moving material to and from the famous Dorking limeworks.  He and his wife and children lived at Dorking, in Back Lane (now Church Street) and Eliza was baptised in St Martin's on 14th June 1857. 
By 1871, the fourteen-year-old Eliza was a housemaid at an inn in Station Road, now almost certainly called The Pilgrim.  She married George Caton in 1877 and over the next 22 years produced ten children, three dying in infancy. 
The 1891 census shows Eliza, despite her five children, working as a charwoman to supplement the family budget,  but by 1901 and 1911, she is only working in her own home.
She  died on 21st July 1917 (a mere two months before her youngest son Percy left for the War) and is buried in St Barnabas churchyard.

PERCY'S BROTHERS AND SISTERS
Percy's siblings were Annie Eliza (1877), Harry Robert (1878), Emily Sarah (1881), George William (1883), Frederick John (1885), Leonard Charles (1888), Martha (1891), Ernest (1895) and Herbert (1898). 
Although born and brought up in Dorking and Ranmore, the Caton siblings later scattered far and wide:  most of the brothers ended up in Wales and the sisters in Wiltshire. The girls all seemed to have been in domestic service, but the boys worked in various occupations – dentist, ship's steward, powerhouse attendant, gardener, carpenter, french polisher.

1.  Annie Eliza Caton
The eldest child, Annie Eliza, registered as Cateon in 1877, was baptised 29th March 1879 along with her next younger brother Harry Robert. There is no record of her in the St Martin's School records, but she was able to write her name clearly when witnessing her sister Emily Sarah's marriage.  She was also the family member who administered her mother's estate. 
Annie Eliza went into service as a housemaid.  In 1901 she is in the Leatherhead household of Bernard Hodgson (Clerk, Supreme Court).  He was the younger brother of Rev. J H Hodgson, the Rector of Ranmore – no doubt how Annie Eliza got her job.  Ten years later she is working for Florence McMaster, a comfortably-off widow, in the substantial Dower House, Chawton, Hampshire, just along the road from Jane Austen's house.

From 1919 to 1922 Annie Eliza is back on Ranmore, probably keeping house for her widowed father.   However, George Caton died in 1927, so by 1930 she is a housemaid in another prosperous household, that of surveyor Walter Horace Vincent in Cuddington – he even boasted a chauffeur.  After that, it is not certain what happened to Annie Eliza, but at the time of her death thirty years later in 1960 (aged 83) she was living in Wiltshire at Shaw House, Melksham (possibly an old people's home).

2.  Harry Robert Caton
The eldest Caton son (usually known as Robert) became a dentist.  Born 9th November 1878, he was baptised in St Martin's Dorking on 23rd March 1879.  After Infant School, he studied at St Martin's Boys School from 1885 until he left in 1890, having achieved Standard IV grade.  He may be the Robert Caton, manservant, born Dorking, who in the 1901 census was boarding in the Knightsbridge household of a "Head Waiter at a Club", but by his marriage in Windsor the next year, Harry Robert described himself as "Assistant to a Dentist" living in London. 
His bride was the 23-year-old Amy Turner, daughter of bricklayer James Turner and his wife Mary Ann. In 1901 Amy had been a housemaid in cosmopolitan Kensington, but by 1911, when she and Robert are living on the Broadway, West Ealing, she is a cashier at a "Cinematograph theatre".  Robert has his own business as a "dental mechanic".  In April 1917 he enlisted in the Royal Naval Air Service, first as Air Craftsman, later Air Mechanic.  The following year the RNAS was merged into the Royal Flying Corps to become the RAF.  See "They Also Served WW1". 
On 18th February 1918 Harry Robert and Amy had a daughter Dorothy Joan, born Brentford.  He was discharged into civilian life on 30th April, 1920.  In 1922 the family are still in Ealing, but by 1926 Harry Robert's home is in Richmond, although his business premises are at 19 Broadway, Ealing.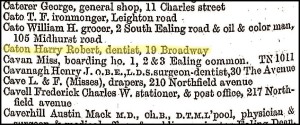 Tragically, a brief three years later, in 1929, he died aged only 50.  Intriguingly, his death certificate says he is "of Pontypool" in Wales, probably because his brother George William was already living there.  Amy lived on another 15 years, dying on 12th December 1944.  Dorothy continued to live in her late mother's house 29 Woodstock Avenue, Ealing,  until at least 1965, but died in Chichester in 1998 at the age of 80.
3.  Emily Sarah Caton
Emily (also spelled Emilie), the Catons' second daughter, was born in 1881 and baptised 29th May at St Martin's, Dorking.  She does not feature in school records, but she was able to sign her name in the St Barnabas register when she married on 10th May 1915 aged 34.  Her bridegroom, considerably younger at 25, was Francis Herbert Milsted, a clerk who gave his address as Eaton Square, London.  Emily's address was Stone Park, a grand country house near Wimborne, Dorset where presumably she was in service. 
Born in Bristol, Francis Milsted (Milstead) was the son of a lamplighter.  In 1911 he was a conductor for the Bristol Tramway Company, but a GPO sorting clerk when, six months after his marriage, he enlisted in the Army Ordnance Corps, home address Lower Redland Road, Bristol.  See "They Also Served WW1".  Over the war years, the Milsteds had three children, all of whom married, two producing children.  In 1919 Francis was discharged from the Army with a pension ("50 per cent debility") – whether from the actual war or from an injury when, in a fit of temper, an opposing back deliberately kicked him during a soldiers' football match at Warminster (an incident graphically described in a series of military documents).
In 1927, when Francis registered the death of his father-in-law George Caton, he and Emily were living in Taunton, Somerset; by 1930 he was landlord of the picturesque Castle Inn, Castle Combe.  In the early 1950s, he turns up in Kennington, south-east London, without his wife Emily who was living in Wiltshire.  However, she had travelled up to London when he died in 1953.  A decade later, she died in Devizes Hospital (home address Corsham).

4.  George William Caton
The Catons' second son became a ship's steward in the Merchant Navy, later a colliery boiler stoker and a "powerhouse attendant".  Born 8th October 1883, George William was baptised at St Martin's Dorking on 4th November.  On 27th October 1890 he progressed from Dorking Infant School to the Boys School, reaching Standard IV before he left on 26th March 1897 and went to sea. 
On 7th August 1912, in Pontypool Register Office, Monmouthshire, Wales, George William Caton, "Ship's Steward, Merchant Service", married the 23-year-old Florence Nancekievill, daughter of the late Edwin, a "colliery boiler stoker".   Bride and groom were both living at Chapel Terrace, Varteg, Abertryrhan, up the Valleys from Cardiff where probably his ship had been accustomed to dock.  George and Florence seem to have had eight children (several of whom, including twins, died young, although at least one child grew up to adulthood). 
After his marriage George seems to have left the Merchant Navy to work in the mines.  On the birth certificates of some of his children he was described, like his late father-in-law as "colliery boiler stoker".   Despite his Merchant Service connection, he does not appear to have served in WW1, but mine work was a reserved occupation.
This Welsh connection probably explains why his older brother Harry Robert was  "of  Pontypool" when he died in 1929; maybe why the youngest surviving Caton brother Frederick John also ended up in Wales.

When George's wife Florence died in 1950, the couple's address was still Chapel Terrace, Varteg.  In his brother Frederick's Will in 1961, George is described as "Powerhouse attendant, retired"; when he himself died in 1968 aged 84, he was  "Sub-station Attendant, retired". 
5.  Frederick John Caton
The Catons' third son was a gardener in the 1901 census, a carpenter by 1911 and a retired french polisher when he died 50 years later.  Born in Dorking on 21st November 1885, he was baptised at St Martin's Church on 24th February 1886.  After Infant School he went to St Martin's Boys School from October 1892 to June 1898.
Frederick is probably the "Mr F Caton" on the anniversary scroll for Lord and Lady Ashcombe's Golden Wedding, given in 1903 by their parishioners, tenants and household servants.  In 1911 Frederick filled in the census form instead of the head of the household (his father George), probably because George could not write.  Like his brother George William, there is no record of Frederick serving in the Great War, but he was in the right age bracket, and could well have gone.

Frederick Caton died on 11th January 1961 in Wales (Crosfield House County Home, Bwlch, Brecknockshire).  It is not clear when or how he strayed so far from Ranmore and Dorking, except that his other brothers also ended up in Wales.
6.  Leonard Charles Caton
Born in June 1888,  little Leonard was privately baptised on 1st December 1889 by the St Martin's curate.  The toddler was very sick:  six days later he was buried in the churchyard.
7.  Martha Caton
The youngest Caton daughter, Martha was born in 1891, either on 15th June or 21st July (dates vary between the records of her baptism on 12th October at St Martin's and her admission to St Barnabas School in 1899).  Aged only two and a half, she was admitted to St Martin's Infant School on 6th November, 1893.  After her family moved to Ranmore in late 1899 she and her younger brother Ernest transferred to St Barnabas School.  She left school in June 1904, probably to be trained for domestic service at the Dispensary.  In 1911 she is in South Croydon, working as a housemaid in the household of a retired railway manager.  It is not certain what subsequently happened to her.
8.  Ernest Caton
Ernest was admitted to St Martin's Infant School on 5th May, 1898.  Although born in summer 1895, for some reason he was not baptised until the age of four, and then in a London church (St Jude's, East Brixton), his father George being described as a gardener.  So far, no other connection has been found between the Caton parents and London.  A month later George began his employment as house porter at Denbies, and Ernest and his sister Martha left St Martin's School for St Barnabas School.  Sadly, he did not live very long to enjoy the Ranmore countryside:  nine months later, on 28th August 1900 aged five he died and was buried at St Barnabas.
9. Herbert Caton
Born 2nd October 1898, baby Herbert was baptised privately two days after Christmas by the St Martin's curate.  No doubt he was very sick, because he died shortly afterwards.
10. Percy Caton
Percy, of the War Memorial, fits in here in the family order, the youngest of the Caton children, born August 1899 and being killed in France on 26th April 1918.  See his page for more details of his life and death.
Copyright©2016
SOURCES
This is a composite list of the sources consulted for all members of Percy Caton's family, but details for the individual family members are available if required.  Virtually all of the sources mentioned can be viewed online via Ancestry, Find My Past and Free BMD.

Birth, Marriage and Death Register Indexes, Marriage and Death Certificates, General Register Office (GRO)
Baptism, Marriage and Burial Registers:  St Barnabas Ranmore and St Martin's Dorking, Surrey History Centre, Woking (SHC); St Jude's East Brixton, London Metropolitan Archives (LMA)
Census Returns 1861 – 1911,  The National Archives, Kew (TNA)
School Admission Registers and Logbook:  St Barnabas Ranmore and St Martin's Dorking (SHC)
National Probate Calendar for England and Wales, Principal Probate Registry
Electoral Registers:  Surrey (SHC), London (LMA)
Kelly's Directories
British Phone Books 1880-1984 (BT Archives)
British Army WW1 Service Records, 1914-1920; British Army WW1 Medal Rolls Index Cards, 1914-1920;  Royal Navy Seamen 1899-1919; British Royal Air Force, Airman's Service Records 1912-1939; Royal Air Force Muster Roll 1918 (TNA)