Private G/1175, "A" Coy, 7th Battalion, 
The Queen's (Royal West Surrey Regiment)

SON of James and Annie Adelaide Buckland
of Stoney Rock Cottage, Ranmore Common

BROTHER of Jessie Ethel and James Buckland

Killed in action 1st July 1916 aged 24
Buried Dantzig Alley British Cemetery, Mametz, France
Also remembered twice in St Barnabas Church,
Ranmore Common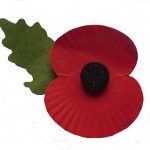 The catastrophic first day of the Battle of the Somme (1st July 1916) is part of the folklore of the Great War.  On that single day nearly 20,000 British soldiers died, one being young Frederick Buckland, an assistant gamekeeper from Ranmore Common.  Apart from the three Cubitt sons, he is one of the only two soldiers on the St Barnabas War Memorial where we have a photograph to put a face to his name, the picture identified in 2008 by his niece Mrs Muriel Rice.

Frederick was a truly local lad.  Before he enlisted, he lived his whole life with his parents (stockman James Buckland and his wife Annie Adelaide) at the western end of Ranmore Common, much of the time in Stoney Rock Cottages, and his younger brother James (Jim) lived and worked on the Denbies Estate until his death in 1966 at Dairy Cottages (see Sketch Map for position of these houses).  And Jim's family (including his daughter Muriel Rice) still live in and around Dorking.

Frederick Sydney Buckland was born on 12th April 1892 and baptised at St Barnabas, Ranmore Common on 1st June.  Apart from brother James (b 1897), there was an elder sister Jessie Ethel  (1888).   Fred attended St Barnabas School from 26th April 1897 until he "left to go to work" in April 1906.  There is only one entry about him in the school logbook:  in June 1904 he was away from school with a sore throat.   It is not certain what work he first did after leaving school, but by the 1911 census he had been appointed under-gamekeeper at Denbies.
Fred enlisted at Guildford very early in the war (August/September 1914) in the Queen's (Royal West Surrey Regiment).  There are no extant records of his war service, but the details of his 1915 Star indicate that he landed in France on 27th July, 1915. (He was also awarded the British War and Victory Medals.)

Frederick Buckland was killed in action on 1st July 1916 aged 24.  He is buried in Dantzig Alley British Cemetery, Mametz.  Mametz is a village about 8 kilometres east of the town of Albert.  It "was carried by the 7th Division on 1st July, 1916, the first day of the Battle of the Somme, after very hard fighting at Dantzig Alley (a German trench) and other points."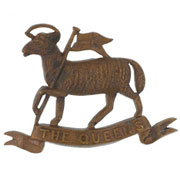 Under the headline "RANMORE MAN KILLED", the "Dorking and Leatherhead Advertiser" of 22nd July 1916 reported:  "News has been received at Ranmore that Frederick Buckland, the son of Mr and Mrs James Buckland, of Ranmore Farm, was among the men of the 7th Queen's who fell in the attack on July 1st.  Frederick Buckland, who was born at Ranmore, was, previous to his enlistment, employed as a gamekeeper on the Denbies Estate.  His father has all his life been employed on the Denbies Estate, where both his grandfathers also worked."

Men on the War Memorial who died earlier than Fred seem to have come to the Denbies Estate for work, but he appears to have been the first local casualty. Which may be why he is commemorated on a small plaque on the north wall of the Church, very probably beside the pew where his family sat.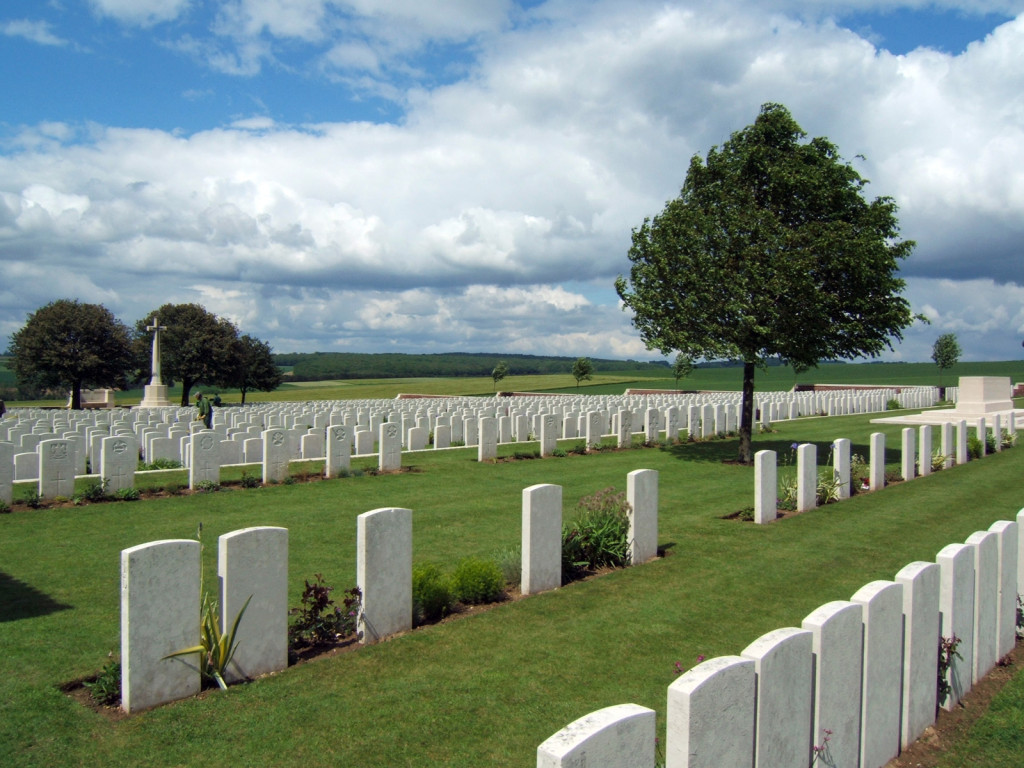 Dantzig Alley British Cemetery, Mametz (The War Graves Photographic Project – TWGPP)

Copyright©2016
SOURCES
Many  of the sources mentioned are available online via Ancestry, Find My Past and Free BMD.
Commonwealth War Graves Commission (CWGC)
Soldiers Died in the Great War (SDGW)
Birth register, General Register Office (GRO)
Baptism register, St Barnabas Ranmore Common, Surrey History Centre (SHC)
Censuses 1901, 1911, The National Archives (TNA).
St Barnabas C of E School Admission Register and Logbook (SHC)
WWI Service Medal and Award Rolls (TNA)
"The House on the Hill, The Story of Ranmore and Denbies",  S.E.D.Fortescue, Denbies Wine Estate, 1993